Is it Year 2051?
By Dustin P Prudhomme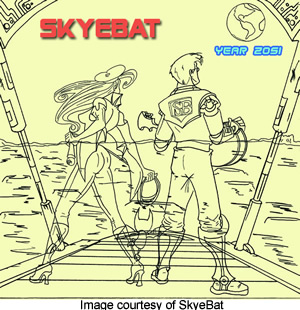 While traveling the Bleeker Street Circuit in New York City recently, the music of multiculturalism could be heard coming from inside the local venues. I'm still not sure if it was the sexy outfits or the dancing throughout the audience that raised my suspicions. However, after coming off the street and entering the Ace of Clubs, I was treated to the spectacular sound of a new hip band singing under the label of SkyeBat. SkyeBat uses a mixture of several band components to create a unique music collection. With parts of the songs being sung in French and English, they truly give a true sense of the current trend in multicultural entertainment.
The band founder is Stephanie Batailler, who is native to the French Alps part of France. While living in the United States for the past eight years, Stephanie has not always been a musician. Stephanie first began to put together the music while producing A Trip to the Planetarium, which recently won Hawaii's 2009 Honolulu International Film Festival Silver Lei award. This short film provided the inspiration for Stephanie to create SkyeBat and bring the idea into fruition by beginning the band.
Much of SkyeBat's music is co-produced by Stephanie and Kennan Keating. While most of the music is new and created solely for SkyeBat, they have been able to reproduce and resurrect 'A Walk on the Moon'; a soundtrack from a movie with the same name. This was a great treat to an old classic. With the ability to reproduce music and bring these creations back to life, only great things are in store for this young band as they travel through time.

SkyeBat creator Stephanie Batailler works alongside with Kennan Keating, who has a long history within the music industry. Kennan, has who has assisted in producing, engineering, songwriter and instrumentalist for SkyeBat, has also worked with multi-platinum major label artists and bands such as Nine Inch Nails, Jane's Addiction, Blondie, Jessica Simpson, Alicia Keys and LL Cool J. With this knowledge and music industry and in sight, Kennan is an asset to SkyeBat.
Stephanie Batailler has stated, "Writing a novel, a script or lyrics, it's the same, it's about telling a story and communicating emotion with the audience adding to the fact that I strongly think that we encounter more Alien behavior on Earth than in Space." After many requests from viewers of the film and family, Stephanie set out to work with Kennan Keating to develop the music that became the cornerstone of today's band, SkyeBat.
The band recently released its latest CD titled Year 2051. Eight of SkyeBat's most popular hits can be heard throughout the Big Apple. With an acoustic guitarist, two electric guitars, electric piano, bass, traditional drummer, and a mix-ologist of percussion equipment, SkyeBat surely has a way of livening up the crowds and getting the beat flowing from the stage throughout the audiences.
Could this be the next influx in the music industry? With Carnival concluded in Trinidad and Tobago, the rest of the Caribbean is gearing up. How would this music play into what we are accustomed to in the Caribbean? SkyeBat is looking to make a showing at the St John, USVI Carnival in 2009 and many throughout the island cannot wait to hear what SkyeBat has in tune for them.
With so many different members playing together to bring out the music, SkyeBat is sure to inspire many. Playing with the band are: Stephanie Batailler (Vocals & Lyrics), Kennan Keating (Electric Guitar & Composer), Stu Newman (Electric Guitar), Jose Rodriguez (Acoustic guitar), David Ross (Drummer), Fabio Mattos (Bass), Shawn Banks (Percussion), Beneficent Robinson (Rapper), and Jian Liang (CD Girl).
When asked why she wanted to combine English and French, Batailler stated, "At the beginning I was torn between writing the songs in English or French. I lived in NYC for the last 11 years, so I speak & write English every day more than I speak French now. However, depending on which kind of story comes into my mind, my French comes back. So after a while struggling, I realized that I didn't have to choose one specific language to write the lyrics, I just had to let the story leading me. Eventually, words came out very quickly by themselves."
What will this group do next to increase their marketability within the ever-challenging music industry? After hearing the band, anything is possible from this group of talented artists. SkyeBat plans to continue touring throughout the United States this year including a trip to St John, USVI Carnival in 2009. After producing their music video this year, SkyeBat will try to move into the international music market. SkyeBat's upcoming performances and CDs are available at www.skyebat.com.
(Dustin P. Prudhomme is a contributor to Island Vibes Magazine and writes about Caribbean culture, business, sports, and entertainment. For comments, please feel free to contact him at dustin@islandvibesmag.com.)